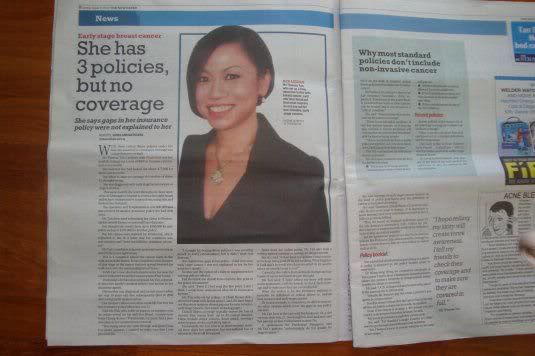 Cerita details dia kat sini
Kalau dilihat dari satu sudut, ada yang anggap insurance menipu. Tapi, anda perlu baca sampai habis cerita Ms Tan ni, baru anda akan faham.
Walau pun ada sesetengah pihak yang anggap benda nie negatif, dan ada jugak yang suka (saya dapat feedback kat forum...daripada pesaing2 Prudential, sebab case nie focus kepada policy Prudential)....tapi, saya ada pengalaman sendiri mengenai artikel nie.
Setelah saya lalui apa yang saya alami baru-baru nie, disebabkan oleh berita ni, pada saya, benda nie bagus untuk insurance umumnya dan untuk Prudential khususnya....tapi disebabkan cerita nie sahaja, ramai yang tanya saya, macam mana dia ni tak boleh claim?...Then, bila kita explained...akhirnya bukan setakat
takafulink
boleh dijual (
plan komprehensive semua dalam 1 akaun termasuk perlindangan kematian, sakit kritikal, kemalangan, medical card dan pelaburan
)...malah dengan pakej
takaful puteri/prulady
sekali masuk..baik2 cuma nak masuk RM 150..jadi RM 250....So, terpulang kepada pemikiran masing2....kalau dia nampak benda nie negative, memang negative la jawapnya, kalau positive, ada cara utk positivekan dan dapat hasil yang positive...
Sebenarnya, bila ada orang complaint macam nie, baru le ramai yang bukak mata. Kat facebook pun berduyun2 msg masuk tanya kes nie...jadi, ia akan buat orang ramai sedar kenapa perlunya penerangan yang details dari agent, bukan main request quotation lepas tu nak study sendiri.......lepas tu sign up tak tau apa2...sekali tak boleh nak claim, kata agent tak terangkan...masa nak terangkan.."takpe, saya study sendiri..."...cheee wahhh, emmm, study le cik kak oiii....
Then, ramai jugak disebabkan case nie, yang bukak policy masing2 untuk direview...then baru diorang realized bukan Pru sahaja yang tak bayar pampasan sakit kritikal disebabkan case "carcinoma in situ"....semua policy critical illness stated macam tu...
Cuba baca petikan dari artikel asal nie..
"....

Did she think she should have read the fine print in her policy documents?She said: "Even if I had read the fine print, I don't think I would have understood what DCIS meant as a layman.

Ms Tan, who set up a blog - A Clean Breast of It - about her battle with breast cancer, said she later found out that most insurers do not pay out for non-invasive, early stage cancers

. Critical illness coverage typically covers the loss of income that comes from up to 30 critical diseases. These include major cancers, heart attack, coronary artery bypass, stroke and kidney failure....

"
Then, bila check balik, rupanya mereka ada benefit sakit kritikal, tak de medical card,....then check balik rupanya kalau case macam nie Prudential bayar kos rawatan (nak remove "carcinoma in situ" tersebut)...then timbul pulak keperluan medical card..akhirnya orang tu pun sign satu plan takafulink complete dengan medical card.
Nasihat saya, dapatkan khidmat nasihat agent sebelum anda membeli mana-mana plan insurance atau takaful. Kemudian, semak sekali lagi dengan agent tersebut mengenai terma dan syarat yang tertulis dalam policy dan mesti selari dengan apa yang diterangkan sebelum anda sign up borang cadangan (proposal form)....kalau ada sebarang kemusykilan, jangan segan2 nak tanya...tanya sampai kita puas hati berserta bukti dan kalau boleh tunjukkan case study dan
contoh claim
....
Jangan ambil mudah perkara ini. Kelak menyesal kemudian hari, tiada gunanya lagi...
Sekian.